Mar 15, 2003
17,362
1,586
173
I hate to jump ahead, but I remember that the Germans damaged the Cherbourg harbor so badly it wasn't usable until into August. With one fabricated harbor out of commission, how did we get enough supplies in until Cherbourg could be repaired? That, I don't remember...
PLUTO and driving LSTs right up onto shore at high tide and off-loading directly onto the beach.
Both Mulberries were damaged, but they scavanged enough from Omaha and dragged them over to Gold to keep Gold open.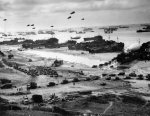 LSTs on Omaha
Last edited: