Aug 7, 2007
2,047
1,007
187
18 days until Alabama Football: Slade Bolden
We are now 18 days away from kickoff! Slade Bolden was a wide receiver at Alabama from 2018-2021. After redshirting his freshman year in 2018, Bolden saw his first action in 2019 as a WR and wildcat QB, with his production including a six yard passing TD against Tennessee. In 2020, Bolden saw his first action as a starting wide receiver after WR Jaylen Waddle went down with his injury. Bolden would finish 2020 with 270 yards on 24 receptions and one TD. That TD came on a five yard reception in the CFP National Championship Game against Ohio State. Bama would go on to win that game by the score of 52-24, completing an undefeated 13-0 season. In 2021, Bolden had his most complete season. He accumulated 408 yards receiving on 42 receptions and three TDs with another coming in the College Football Playoff; this time in the semifinal game against Cincinnati. Slade ended his Tide career with three SEC Championship rings and one National Championship. Bolden signed with the Baltimore Ravens as an undrafted free agent on April 30, 2022.
WEARING #18 THIS YEAR SHAZZ PRESTON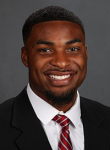 POSITION WR
HEIGHT 6-0
WEIGHT 190
CLASS Freshman
HOMETOWN Saint James, La.
HIGH SCHOOL Saint James
Considered one of the top wide receiver prospects in the country ... adds another playmaker on the outside for the Crimson Tide ... a consensus four-star prospect ... the No. 5 receiver in the nation and the No. 44 player on the Rivals100 ... also listed as Louisiana's No. 5 recruit according to Rivals.com ... No. 55 on the 247Composite, the No. 8 receiver and the No. 5 player in the state of Louisiana ... the No. 46 recruit nationally in On3's Consensus rankings ... 119th in the Top247, the No. 20 wideout and No. 9 player in the state by 247Sports ... listed at No. 90 on the ESPN300 while the site also ranked him as the No. 3 receiver, No. 8 player in the Southwest Region and the second-ranked player in Louisiana ... No. 135 in On3's On300 rankings ... selected to the Under Armour All-America Game ... coached by Robert Valdez at Saint James High School ... chose Alabama over Georgia, LSU and Texas.
ALSO WEARING #18 THIS YEAR ZEB VICKERY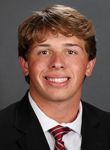 POSITION QB
HEIGHT 6-2
WEIGHT 195
CLASS Freshman
HOMETOWN Flomaton, Ala.
HIGH SCHOOL Flomaton