Dec 8, 2005
2,141
1,342
187
59
Where I will say the NFL appears to be wrong is in its punishment priorities: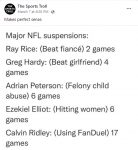 If violating the gambling policy (on an otherwise legal activity) is worth a season, I am not sure how to justify that Ezekiel Elliot's possible misdemeanor (getting you one to six months in jail) warrants only six games, which is what the NFL calls its baseline sanction on domestic violence.
I'm not arguing for less punishment for Calvin Ridley. I am suggesting that some level of proportionality, seemingly missing here, is called for, maybe in the form of a greater punishment for the other cases.
And on a lighter note, who knew Ray Rice was once engaged to a man?