Oct 24, 2011
4,969
2,807
187
He may or may not be, or maybe he owes the Executive Assistant a fortune (a "Frasier" joke although Hugh Freeze is an acceptable fill-in to explain it if you don't know).

That's the thing, though.

I am NOT - and my years on this board show this - I am NOT a knee-jerk Auburn basher as too many around here through the years have been. I don't hold to the notion that "we good, they bad," I know a number of fine Auburn fans personally.

But there is something that is sinister and next-level weird over there, too.They are the ONE college I could see willing to hire OJ Simpson as a coach who could teach them how to really go for the jugular and hit extra hard - if they were convinced he could beat Alabama. Bruce Pearl anyone? Cam Newton? They were talking to Bobby Petrino in the infamous Jetgate. There is an unhealthy obssession over there with some elements of their PTB (and even a good chunk of their fan base though not all as I said; we've got some morons too) that "just so long as we beat Alabama" nothing else matters. The rivalry should be healthy - not the reason someone lives or dies.

Actually, I should qualify my comment.

They'll insist new head coach Hugh Freeze hire JP as the DC.

And Art Briles as the OC.

I mean, I'm sitting here half convinced if they could rescusitate Joe Paterno, they'd bring him back "because he beat Bama and won national championships!"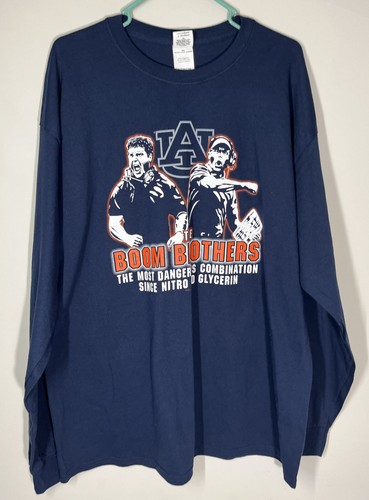 Find many great new & used options and get the best deals for Mens Auburn Tiger Boom Brothers T Shirt Size XL Blue Long Sleeve 2014 Tiger Rags at the best online prices at eBay! Free shipping for many products!
More Dangerous than Nitro and Glycerin. lol